Peru Homestay Communities
---
AMANTANI ISLAND
Located in the middle of enormous Lake Titicaca near the Bolivian border, Amantani is a beautiful base for exploring the lake and it`s islands.
CHAULLACOCHA
Chaullacocha is the highest altitude homestay we offer, and one of the most fascinating. Learn about raising llamas and alpacas, visit the tiny local school, or just enjoy the sparse but beautiful Andean landscapes. A homestay here could be substituted for one night of camping on a Lares Trek, or as part of an overnight visit of the area.
CHILLCA
Learn about raising llamas, alpaca's and vecuñas in the Chillca community next to the Andeas mountains. A homestay here can be combined with any trek to the beautiful mountain Ausangate, including Peru´s Rainbow Mountain.
CHONTA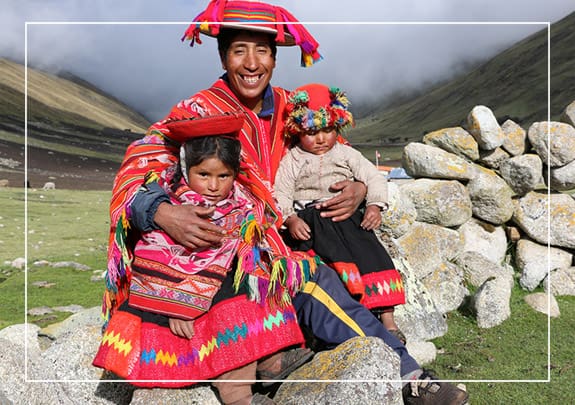 Chonta is a tiny rural village located outside Cusco, in an area closest to the trailheads of our Salkantay and Remote Salkantay trek routes. The community is perched high above the Apurimac river valley, with incredible views of this deep canyons with a background of snowcapped Apu Salkantay and adjacent peaks. Chonta is best combined with a Salkantay or Remote Salkantay trek, or could make an excellent 1-2 side trip to relax, enjoy the peaceful community and beautiful scenery, and a hike to an amazing condor viewpoint, where you`ll be able to observe these enormous birds soaring overhead and through the canyon below.
COPORAQUE
Home to the oldest church in the Colca Canyon and featuring gorgeous views of the terraced slopes that make up the canyon walls, a Coporaque homestay is a picturesque alternative to hotels along the traditional tourism route through Colca.
CUISPES – LEYMEBAMBA
A stay in the Amazonas is a great way to discover the more secret north of Peru. Learn more about coffee farming, visit the place where they raise guinea pigs and participate in a bread workshop in the community of Cuispes. In Leymebamba, known for its weaving, you can join the weavers and learn all about this trade. Visit the archaeological site of Kuelap that belongs to the Chachapoya and hike to the Yumbilla waterfall, enjoy the beautiful scenery or opt to participate in a canyoning activity in one of the many waterfalls that sink in this valley. A homestay in Cuispes combines well with our Chachapoyas and Kuelap Tour.
HUANCHACO
The seaside fishing village of Huanchaco is famous for its Caballitos de Tortora, reed watercrafts used by fisherman along Peru's northern coast for thousands of years. Huanchaco is an excellent stop while exploring the Moche route, a series of ruins, museums and beautiful beaches in the ancestral home of the fascinating Moche & Chimu cultures.
ICA
Located on the arid southern coast of Peru, Ica is an excellent base for visiting wineries and pisco bodegas, the Nazca Lines, and Paracas. From Lima, explore surrounding dunes, Huacachina oasis, and even try sand boarding before a distinctly Iqueñan dinner and overnight with your host family.
LIMA
Spend a night in the historic Limenean neighborhood of Villa el Salvador. Originally formed as a pueblo joven, Villa el Salvador gained fame as a self-organized, largely independent area on the outskirts of Lima. Today the city has expanded to include it, but political and social organizations within the community remain strong. Visit the local market with your host family, prepare dinner together, and experience for yourself how urban Peruvians live.
LUCMABAMBA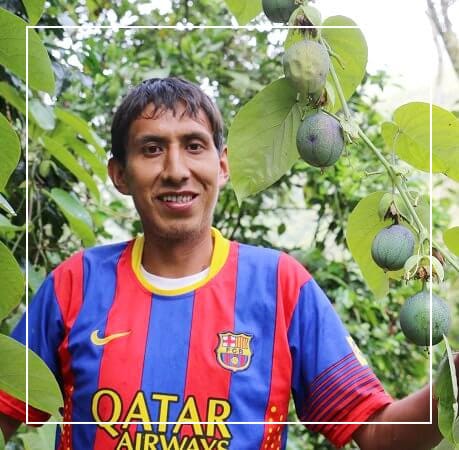 Lucmabamba is located approximately an hour above the town of Santa Teresa, where many visitors stay before visiting Machu Picchu. While the area sees plenty of tourists, a tiny percentage end up staying in Lucmabamba. Our homestay family here grows coffee and other crops to support themselves, and are happy to give you a tour of their land. Learn about coffee production and roast and grind your own for breakfast the following morning! This homestay is part of our 4D/3N coffee route tour, can be combined with a tour to Machu Picchu, and substituted for a night of camping on Salkantay and Choquequirao treks (Salkantay, Remote Salkantay, Choquequirao-Machu Picchu, Choquequirao-Vilcabamba).
PATACANCHA
Patacancha is located in beautiful valley of the same name, approximately 45 minutes above the town of Ollantaytambo. Known for its weaving, Patacancha is an excellent place to learn about traditional weaving and dying practices, and even purchase your own piece directly from the weaver. A homestay here could be done as part of a Lares Trek or as an overnight visit from either Cusco or the Sacred Valley.
SAN JUAN QUISWARES
Located in the province of Acomayo, San Juan Quiwares is a small village approximately four hours by car outside of Cusco. This is an extremely rural area, and you will undoubtedly be the only foreigners in town. Many younger people have left the village for Cusco, for a better education and better economic opportunities. However, the scenery here is stunning, with lakes, pretty walking trails, and hundreds of hummingbirds. A visit to San Juan Quiwares is best done on its own, or added to an existing trek or tour. We offer a 2D/1N tour here, which combines mountain biking and a tour with time with your homestay family.
SIBAYO
A homestay in peaceful Sibayo is an excellent alternative to the more touristy Colca Canyon towns of Chivay and Cabanaconde. Stay with a friendly family in a traditional stone home with a straw roof while exploring the Canyon.
SONQO
Although the Sacred Valley receives an enormous number of foreign and national visitors each year, the overwhelming majority visit on a day tour to the most well known sights, and often do not spend the night. The community of Sonqo is located a bit above the valley, and far from traditional tourist attractions. A homestay here could easily be combined with day tours in the Sacred Valley, our Inca Quarry trek, or even as a stopover on the way from Machu Picchu.
TAQUILE ISLAND
Taquile Island, a UNESCO World Heritage site renowned for its weaving traditions, is located on Lake Titicaca Many visitors to Taquile visit only briefly as part of a day tour, and stick to only a small part of the island. A homestay here allows time to explore the less touristy parts of the island, relax in a beautiful place, and learn about local traditions in depth. A homestay here could be substituted for overnight in Puno on any tour.
As with all Ayni Peru tours and treks, travel with Peru homestays could depart any day you would like. Please note that certain holidays or other significant days during harvest time may not be available in all communities. Please contact us for specific information.