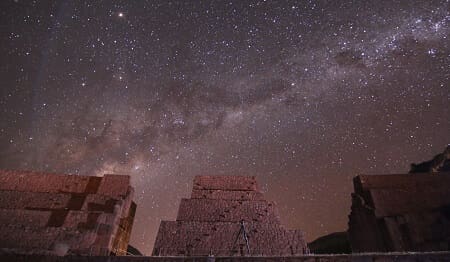 We are very happy to announce new Peru stargazing tours beginning in April 2017. Stars of the southern hemisphere vary greatly from the north. One of the most easily notable differences is the visibility and brightness of the Milky Way. The distinct light and dark areas in and around the Milky Way is the basis of Inca constellations, which is the focus of our Peru stargazing tours.
During tours, we'll have the opportunity to learn about and observe the Llama constellation (Urcuchillay), among the most important, rising above the city of Cusco. The mother llama and her baby are dark cloud constellations, although the mother's eyes are the two brightest stars from the stellar constellation Centaurus.
Along with Urcuchillay, the Milky Way is home to a variety of dark cloud animals. They include:

• Mach'acuay, The Snake
• Hanp'atu, The Toad
• Yutu, The Partridge
• Atoq, The Fox


To the Incas, the movement of the night sky was used as both a calendar and an indicator of important events. Astronomy was used extensively for agricultural purposes. The Inca built carefully oriented pillars on hills overlooking Cuzco, and when the Sun rose or set between the pillars, it was time to plant at a specific altitude. A range of pillars were used so that the most accurate time-keeping was possible for the high altitudes, the valley floor, and everywhere in between. Our tours include visits to these spots, to see exactly how this was accomplished.
Would you like to learn more about Inca astronomy, astro-photgraphy or simply enjoy a beautiful night sky? We offer a range of Peru stargazing tour options. Trek night viewings with an expert guide can easily be added to any of our trek routes, or during a stay in the Sacred Valley. If you are interested in a more complete introduction, we can arrange tours of 1-5 days focusing on Inca cosmology, its uses, and the ruins where astrology-related constructions remain today. We also arrange overnight stargazing and photography tours to a series of well situated locations. Check our our calendar for group departures, or contact us with any questions!


0